Johann's Home Page
The address for this page is <http://johann.beda.ca/>. Any other addresses may change without notice. Please bookmark and link appropriately.

If you are looking for my sons Robert and Jack web pages, they are at <http://robert.beda.ca/>, and <http://jack.beda.ca/>, and Rachel's is at <http://rachel.beda.ca/>. The Help Diocese of Kikwit page is at <http://kikwit.beda.ca/>. Further family can be found at <http://LaBoo.net/> for my parent's boat and <http://A-Muse-Productions.com/> for my sister's film business and <http://Hydropathy.net/> for my sister-in-law's boat.
---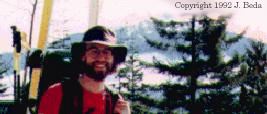 For those of you interested in my complete curriculum vitae, in all of its gory detail, it is available.

I have put together various web pages over the years, some more up-to-date than others. They include:
---
While I do not go around shouting "Mac OS Rules!" or now "Mac OS X Rules!", I do use a Macintosh computer, and even do some Macintosh consulting, and thus find some of these links of use.
---
Some places I visit quite often include:
The US Postal Service, where you can lookup US postal codes.
Get removed via the web from US mailing lists via the Direct Marketer's Association or use the National Do Not Call registry for phone calls.
Get removed via the web from Canadian mail and phone solicitation lists via the Canadian Marketing Association and use iOptOut to opt out of many other types of phone calls.
The Straight Dope, where Cecil Adam's collected wisdom is on display.
Similarly entertaining, albeit much less intelectual, is Dave Barry, and of course, AutoDave.
For you psychics out there, why not earn a million dollars from the James Randi Educational Foundation?
My comics page.
Outdoor equipment
Adbusters has a site promoting all sorts of radical left-wing, anti-establishment stuff - like leaving your car at home and riding your bike to work as well as International Buy Nothing Day on the day after (US) Thanksgiving, traditionally the busiest shopping day of the year.
Consumer Reports has a web site with a lot of consumer information, although they do require a subscription with a fee to access some of it.
iGive is a system for using advertising revenue to generate income for your favourite charity. If you want to raise a few dimes for a nonprofit group, take a look. You will initially be set to support one of my favourite charities but you can change it to any charity you wish and even nominate charities that are not currently available.
Yak is who we use for cheap calling card calls.
Vonage.ca provides our phone service.
We are part of the Air Miles Reward Program
Home Power Magazine has a web site with the current issue in PDF and lots of information about solar, wind and hydro power for your personal use.
Banks/Credit Unions:
Investment places:
Tax places:
Trade in movie and star stocks and bonds at the Hollywood Stock Exchange.
Galaxy Cinemas has a theatre at Peterborough Square.
Tribute.ca does new movie listings across the country.
Religions places:
Computer memory and CPU's can be found at RAMJET (in Champaign, IL) and at The Chip Merchant as well as Canada RAM (in Victoria, BC).
Alta-Vista has a language translator as does Google.
---
I long ago got involved in a distributed effort to break a secret code and win some money from RSA and to demonstrate the limitations of current encryption technology. There are many other distributed computing efforts, such as those listed at the Mersenne page.
---
For web searches, I tend to use Google. For web indexes, I tend to use Yahoo, a searchable WWW index which also has a text only version, but I haven't really used an index in the last decade....
---
I usually use MESA for searching for people's email address and teldir.com or canada411.ca for phone number.
---
For contact information, use my universal contact link for my i-name: =j-beda.
---

---




---

---